Food for Thought Luncheon
Wednesday, August 18
11:30 a.m. – 1:30 p.m.
Henry B. Gonzalez Convention Center
Stars at Night Ballroom

Not included in any registration. Tickets are $20 per person. Available in limited quantity and are subject to selling out. Tickets can be purchased online through the registration portal.
Must present ticket for entry. If you arrive late, seating and/or meal service may no longer be available.
Keynote Presentation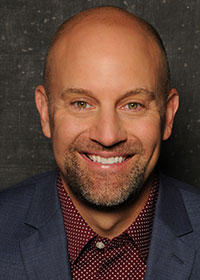 Mike Robbins
Author of We're All in This Together and Be Yourself, Everyone Else is Already Taken
Bring Your Whole Self to Work

For us to truly succeed, especially in today's diverse and ever-changing business world, we must be willing to bring our whole selves to the work that we do. And, for the teams and organizations that we lead or are a part of to thrive, it's essential to create an environment where people feel safe enough to bring all of who they are to work, as well. When we operate with courage, trust and vulnerability, we're able to unlock innovation, connection and performance at the highest level for ourselves and those around us.
This program, based on Mike Robbins' work and books:
Teaches people how to build more authentic relationships with those around them
Exemplifies the power of appreciation
Shows ways to enhance emotional intelligence
Encourages people to operate with a growth mindset
Challenges team members to work together and collaborate
Recognitions
APCO Agency Training Program Certifications
Chapter Growth Number Membership Award
Chapter Growth Percentage Membership Award
Membership Density Award
Menu
All items will be individually wrapped, covered or served.

Assorted breads
Garden salad with mixed greens, tomatoes, cucumbers, carrots and cheese with ranch or balsamic vinaigrette dressings
Stuffed chicken Florentine roulade with spinach pesto, wild rice pilaf, garlic green beans, with tomatoes, Romano cheese and pepper cream sauce and gnocchi
Granny apple pie with whipped cream and white chocolate
Food for thought luncheon
sponsored by