New Products Zone
Visit this special showcase and discover products launched after September 2019 by APCO 2021 exhibitors.


Resident Connection
Booth #NPZ1
Everbridge Resident Connection provides verified mobile, landline and VoIP telephone records to use for emergency notifications. Resident Connection phone numbers and addresses are verified and available for list-based or GIS-based targeting.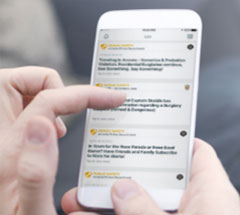 ---

2/3/4/5G Private Networks Software
Booth #NPZ1
NetNumber's ensures effective migration to a fully integrated network that focuses on effective deployment of secure mobile technology for Military / First Responder / Intelligence agencies. Deployments range from tactical, flight line coverage through secure communications across an entire airfield.